A Look at the New 2020 Gibson Acoustic Guitar Lines
In the last year, Gibson has made a valiant effort to streamline its offerings and present a more consumer-friendly approach to marketing their guitars. 
At the recent NAMM show in Anaheim California, Gibson Acoustics took a nod from their electric counterparts and introduced a simplified acoustic guitar lineup that will be easier for players, dealers and every in between to understand.  Just like the electrics, the acoustic will be broken into three main segments, the Modern Collection, the Original Series and Customs. 
The 2020 Gibson Acoustic Modern Collection
The Gibson Modern Collection features acoustic guitars as you have known them. Modern versions of the classics guitars you know and love from Gibson. From J-45's, Hummingbirds and Songwriters, they are all here. Some of the highlights from the line include:
Gibson G-45 Studio
An American made Gibson Acoustic for only $999! The G-45 Studio is designed to provide the perfect mix of tone, performance, and traditional Gibson style for all players and every stage. It is hand-built in our Bozeman, Montana factory using time-tested Gibson build techniques like hide-glued dovetail neck joints and domed top braces along with modern features like slimmer body depths and Advanced Response neck profiles. A solid Sitka spruce top and solid walnut back and sides deliver crisp sounds with plenty of wonderful overtones while a Fishman Sonitone pickup captures every nuance for easy plug-and-play at home, in the studio or on stage. It represents a new point of entry into Gibson acoustics and a new precedent for sound and quality.
Gibson Songwriter Acoustic
First introduced in 2003, the Songwriter combines Gibson's time-honored bracing patterns of the 1930s, with our original dreadnought shape, providing a supreme tonal quality. Featuring beautiful rosewood back and sides paired with a Sitka spruce top. The Songwriter Deluxe Studio is Gibson's modern rosewood dreadnought with a superior dynamic range
Gibson J-45 Standard
The J-45 is Gibson's best-selling acoustic of all time. Nicknamed "The Workhorse" and first introduced in 1942, this iconic acoustic has become the cornerstone of its round-shoulder, dreadnought line. World-renowned for its full, balanced expression, warm bass and excellent projection, the J-45 has been refined to carry this legacy to new heights. This 2019 model delivers a sound with incredible dynamic range, warm mids, and a tight punchy bass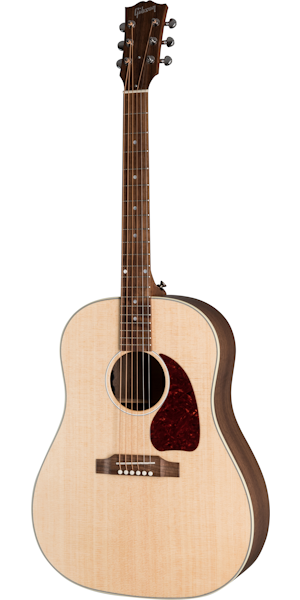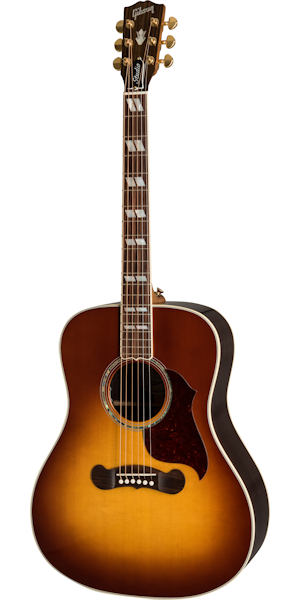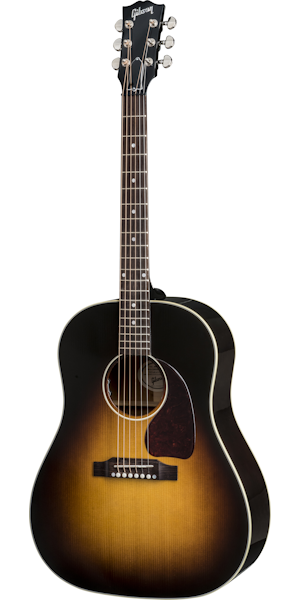 2020 Gibson Acoustic Original Collection
The Original Collection represents the "next step" taking the modern Gibson Acoustic Guitars as you have known them and adding touches from days gone by. These guitars have a spirit of an older guitar, without being year specific but represent an era of Gibson acoustics. Some of the highlights from the Gibson Acoustic Original Collection include:
'50's J-45 Original
The new 50s J-45 Original model flaunts vintage-inspired detailing from the golden era of Gibson. Classic "Workhorse" materials include a Sitka Spruce top and Select Mahogany back and sides. The multi-ply top and single-ply back binding are subtly antiqued making each instrument look just like a seasoned Gibson acoustic. Appointed with cream button tuners, a 50s-era tortoise pickguard, and upgraded with an LR Baggs® VTC pickup for the best and most natural-sounding tone when amplified.
SJ-200 Original
The Gibson SJ-200 is the world's most famous acoustic guitar and earned its designation as the "King of the Flat-Tops." Since its release in 1937, its wide use by American artists of this century has made the Super Jumbo one of the most widely played acoustic guitars of our time. The most striking features of the new SJ-200 Original include the carved four-bar Moustache bridge, an engraved tortoise pickguard, mother-of-pearl crown fretboard, and headstock inlay, and exquisite flamed maple back and sides. The SJ-200 is an American original with its shape and elegant appearance.
Dove Original
This famous flame maple-backed square-shoulder introduced in the early 60s is intertwined with one of the most revolutionary decades in popular music history. Its maple back and sides and long scale produce the crisp, clear tone and projection, while the square-shoulder body adds balance and warmth. Classic Dove details include a bone nut and saddle, double antiqued multi-ply binding, nickel Grover keystone tuners, a traditional Dove truss rod cover, and a cherished pickguard featuring an inlaid mother-of-pearl Dove with hand-engraved and painted detailing.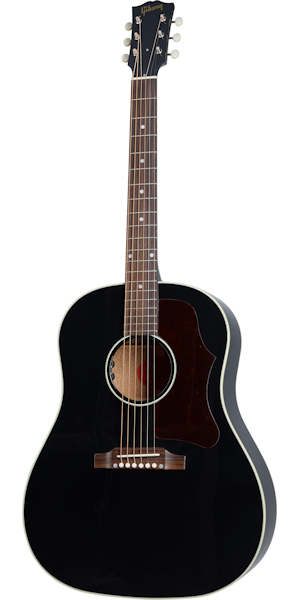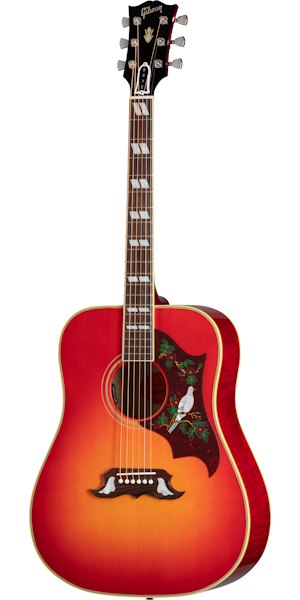 2020 Gibson Custom Shop Historic
The Historic Custom Acoustics are recreations of iconic year specific Gibson Acoustics that include thermally aged tops for a vintage tone out of the case. These models are carefully constructed as it would have been in the year it is representing.  Every detail matters in these guitars including the cases as each guitar will ship in a period-correct case. Some highlights from the Historic Custom Collection include:
1942 Banner J-45
The allure and legend of the Gibson J-45 lives on in the new Custom Historic 1942 Banner J-45. Inspired by the holy grail of vintage acoustic instruments, luthiers in Montana meticulously crafted a J-45 just like the most popular and celebrated version in structure and components. The new 1942 Banner J-45 includes a Thermally Aged Adirondack red spruce top hand-sprayed with a historic-style burst, hot hide glue top bracing for a better tonal response, and a bone nut and saddle.
1960 Hummingbird Fixed Bridge
Introduced in 1960 as Gibson's first square-shoulder, the Hummingbird arrived at the dawn of a new era in music and was rapidly embraced by the prime movers on the scene. Built with a Thermally Aged Sitka spruce top, the 1960 Hummingbird reflects the appearance and performance of those early icons. Featuring a fixed bridge, it's finished with Gibson's new Thin Finish, including a hand-rubbed VOS process.
Pre-War SJ-200 Rosewood
The Acoustic Custom Shop has recreated the King of the Flat-Tops. One of Gibson's most storied models, this Historic Reissue instrument is hand-built in Gibson's celebrated Bozeman facility using the finest materials and styled after its late 1930s counterparts. Each is constructed with a select Thermally Aged Adirondack red spruce top with hot hide glue bracing, rosewood back and sides, and premium ebony for the fingerboard and bridge. No detail is left untouched: the bound fingerboard, vintage-style script Gibson inlay, and unique pickguard add custom touches all over this authentic recreation.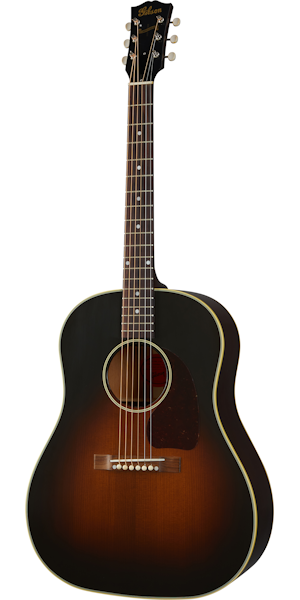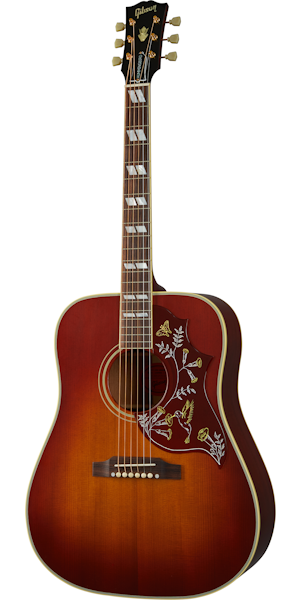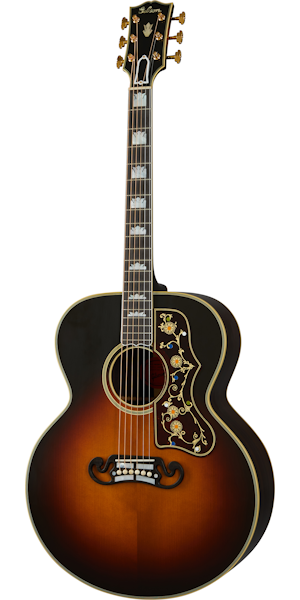 Final Thoughts on 2020 Gibson Acoustics
2020 is already starting to be a great year for Gibson. Riding the wave from 2019, Gibson's update to their acoustic line is a welcomed one that should have players smiling.
For more information about the new Gibson Acoustics, give Music Villa a call at (406) 587-4761 or to see all of our in-stock Gibson Acoustic click here: https://musicvilla.com/collections/gibson-acoustics
---